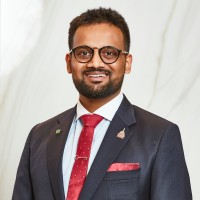 HotelBizLink congratulates Neal Patel, AAHOA's incoming chairman. Neal Patel is the founder of Blue Chip Hotels, a Texas based hotel management and hotel consulting company. He is the youngest board member who will become chairman when the AAHOACON22 convention begins in Baltimore next week.
He became an AAHOA member in 2012 and soon volunteered as an ambassador. Neal joined AAHOA's board of directors in 2016 after being elected as the Young Professional Director Western Division, a position he held for three years.
It is to be noted that AAHOA is one of the largest trade associations in the U.S., with nearly 20,000 members which own 60% of hotels in the country. AAHOA's mission is to advance and protect the business interests of hotel owners through advocacy, industry leadership, professional development, member benefits, and community engagement.
Neal's inspirational story begins when his family immigrated to the United States from India in 2004. His father put all his life's savings in buying a 20 room motel in Giddings, Texas. However, the family later sold that hotel and bought a franchised hotel in Round Rock, Texas. Fast forward to today, where Blue Chip Hotels owns eight hotels totaling some 1,100 rooms.
Neal is now all set to chairman one of the most powerful organizations in the United States, whose members possess billions of dollars worth of property assets and are responsible for roughly 1.7 percent of the nation's GDP.